Fifty Years Ago, Arrow Rock Went to the Movies
In April of 1971, seasoned Hollywood production men Chico Day and Bill Venegas embarked on a location scouting trip through the American Midwest in search of a location for the planned Arthur P. Jacobs widescreen musical adaptation of Mark Twain's Tom Sawyer. After some weeks of scouting, a quick jotted note in Jacobs's files reveals the results of their search. Their recommendation? The on-screen "Hannibal" should be in Plattsmouth, Nebraska, "30 Miles out of Omaha, Platt River, 2 Boats, Delta Queen moved to St. Louis can be used for filming. Limestone Caves."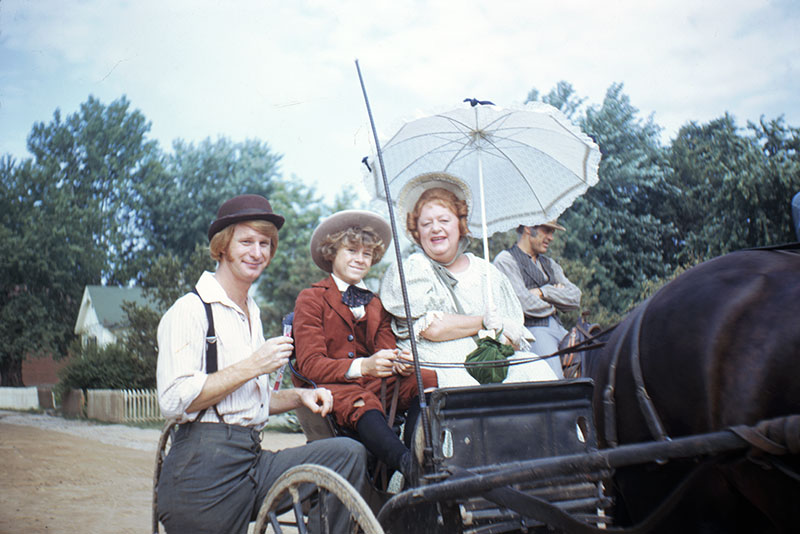 Over the following year, correspondence between the film's producer, Frank Capra Jr. and then-Missouri governor Warren E. Hearnes, as well as Jim Pasley, then-director of the Missouri Tourism Commission, reveals a slow but steady turn of the production from Nebraska to Missouri, and finally to Arrow Rock, where most of the production was shot (other Missouri locations included Blackwater, Lupus, and Meramec Caverns) in the late summer of 1972.
The production ultimately involved residents of Columbia, Marshall, Glasgow, Nelson, and environs; locals spent several weeks portraying townspeople, and in the half-century since, Tom Sawyer has become a beloved com-munity treasure, and source of much local lore.
According to Donna Huston, past president of Friends of Arrow Rock and an "atmosphere" player in the film, "The production designer, Philip Jeffries, immediately saw the potential of filming here in Arrow Rock. He walked through the village and was heard to say happily, 'I don't have to build any sets!'"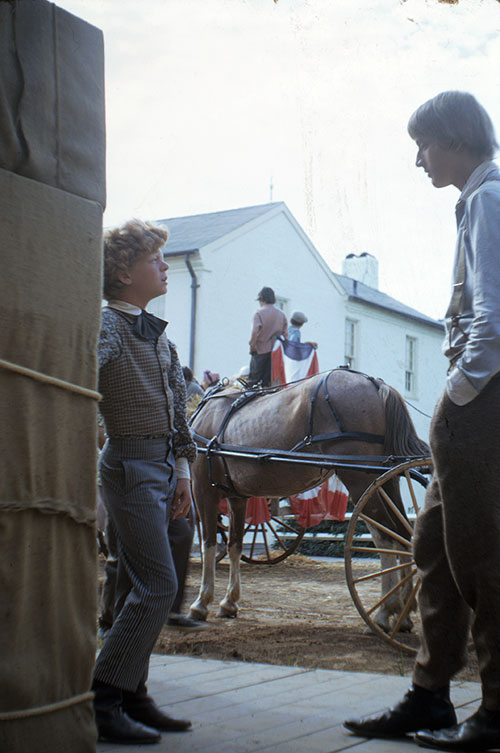 The few Hollywood touches that were constructed included a jail cell in the Main Street Alley, a Blacksmith Shop on the Tavern Lawn (which also sheltered lighting and production equipment), and Huck Finn's riverside shanty on the Sites Farm in Blackwater.
"This was an era where films became less studio-bound and more frequently sought both the veracity and the cost savings of going to actual locales," says writer and film historian Craig D. Barton. "The net result in Tom Sawyer is that the reality of Arrow Rock enriches both the look and the feel of the film. There's no doubt that's a real place, and it subtly becomes a character in the film."
Jeffries' work on this distinctive design was honored with an Academy Award® nomination for Best Production Design. Enhancing this visual authenticity was the filmmakers' use of dozens of real residents as the "Hannibal" townsfolk. Dressed in Oscar®-nominated period costumes by DonFeld, and instructed, as Donna recalls, "Don't wear even a touch of modern make-up!" there isn't a hint of Hollywood artifice in the human atmosphere of the film, which is especially important in critical scenes such as a courtroom trial, a funeral, and a joyous summer picnic.
It was blazingly hot in Arrow Rock that summer, with abundant mosquitoes, poison ivy, and some highly uncomfortable interior sets inside real buildings as the film shot from mid-July to the first week of September. But few of the eyewitnesses complain about those circumstances without a fond smile.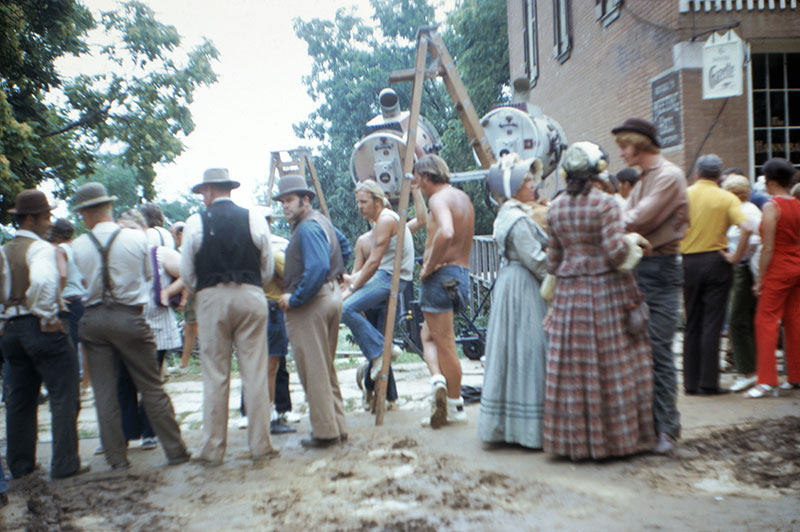 "It was a lot of work," Donna remembers. "But it was more like a summer picnic or a family reunion. Several of the cast and crew had their children along. I was going to host a dinner party and Celeste Holm ("Aunt Polly") overheard and asked, 'Am I invited?' Imagine! This Broadway star and Academy Award-winner wanted to join us! The Hollywood kids played with the local kids, and I think there may have been a few summer romances, too," Donna says with a smile and a wink.
Today, even with its amazing pedigree—the screenplay and songs were written by Oscar-winners Robert B. Sherman and Richard M. Sherman, the film received three Oscar nominations (Best Original Score, Best Production Design and Best Costume Design) the Sherman Brothers, along with John Williams, received a Golden Globe nomination for Best Original Score—this remarkable film is somewhat forgotten.
But residents of Arrow Rock will never forget that magical summer, and Friends of Arrow Rock will continue to research, document, and celebrate its production, and the impact that was made on the community when Hollywood found "Hannibal" here in Arrow Rock.